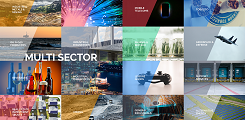 Telefónica Deutschland "CEO/CFO meeting feedback" (Buy) Tang
Confidence on guidance supported by easing headwind /ongoing tailwinds
TEFD were confident in an improving trajectory for mobile service revenues supported by the following elements: i) Pre-paid activity and gross adds back to pre-crisis levels; ii) The benefit of lower churn throughout the lockdown period should be visible in Q3 given a lag effect (German subscribers need to give three months' notice) and churn remains low;  iii) The one-off special factor in Q2 (-€24m legal settlement on Partner revenues/EBITDA) will not recur; iv) Roaming revenues remained subdued but have improved since Q2 amid Germany being seeing as a safe holiday destination and an influx of seasonal workers.


Huawei – less exposed?
TEFD is lagging peers in terms of 5G rollout but this could prove beneficial if there are restrictions on the use of Huawei equipment, as has been the case in other markets ( link). The German government is likely to give an update on security certification protocols and potential vendors/suppliers restrictions by the end of the year. While it is not clear what will happen to Huawei, TEFD sees limited risks given its limited rollout of 5G thus far and potential for any vendor restrictions not to apply to existing equipment.


Fiberco in Germany
TEF highlighted in its Q2 results call it is aiming to start a Fiberco in Germany as it views the country as underserved in terms of fibre and sees an opportunity. The vehicle will be led by the TEF Infra business unit and will have a neutral wholesale approach targeting mainly rural areas. TEFD is likely to be the future anchor tenant of the Fiberco, but it is not clear whether or not TEFD will acquire a minority stake in any new fibre vehicle, which could impact shareholder returns. TEF noted it will be seeking a financial partner for its new project in Germany.


Valuation: PT based on DCF
Our revenue/EBITDA assumptions are broadly unchanged but low absolute changes in net income trigger high percentage changes in EPS given net income is close to breakeven. On EFCF, we trim it by c-4% due to higher lease payments/re-phasing of capex. TEFD offers a c7.5% EFCF yield (post-spectrum) and a c7.2% dividend yield for 2020E. PT trimmed to €3.40 from €3.50.UBS does and seeks to do business with companies covered in its research reports. As a result, investors should be aware that the firm may have a conflict of interest that could affect the objectivity of such reports. Investors should consider research reports as only a single factor in making their investment decision. Important information including analyst certification and required disclosures regarding specific companies, derivatives or other instruments discussed in the email is included in the relevant latest research report. Such reports are provided to our clients through UBS Neo and, where appropriate, UBS.com. Where such report is not attached and/or hyperlinked you should refer to UBS Neo for a copy. You should also refer to the public disclosures website at /disclosures for required disclosures regarding specific companies. The message is subject to the Global Research Disclaimer available at /disclosures. (c) UBS 2020. All rights reserved. Intended for recipient only and not for further distribution without the consent of UBS.