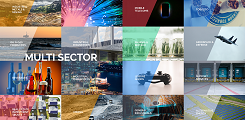 China Property: Embracing megacity clusters. OVERWEIGHT
With the government's efforts to foster and develop city clusters in China, we see
huge housing demand in core metroplolitan areas arising from urbanisation and
cross-regional population flows into those areas. Naturally, the YRD and GBA will
remain the main magnets for population in the future, given their vast potential.
Urbanisation rates in YRD (68.5%) and GBA (84.4%) are notably higher than in the
rest of China (59.6%). Maintain OVERWEIGHT with CIFI, Ronshine and Times China as
top BUYs.