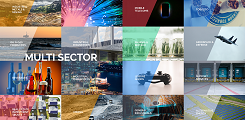 Regional Morning Notes - Friday, May 17, 2019
REGIONAL
Sector
Gaming: The gaming scene in Indochina remains highly charged as Vietnam and Cambodia's GGR are set for explosive growth. Key beneficiaries are RGB, Suncity and Nagacorp.
CHINA
Sector
Automobile: Autonomous Vehicles: Huge opportunities but not yet a revolution. Maintain OVERWEIGHT.
IT Hardware: Restriction on Huawei component imports from the US – Negative to handset component makers but positive to telecom equipment names.
Results
NetEase (NTES US/HOLD/US$279.11/Target: US$280.00): 1Q19: Strong game performance, bottom-line beat on increased operating efficiency. Downgrade to HOLD.
HONG KONG
Results
Galaxy (27 HK/BUY/HK$51.05/Target: HK$64.00): 1Q19: Results miss on challenging VIP.
INDONESIA
Update
Wijaya Karya (WIKA IJ/HOLD/Rp1,850/Target: Rp1,800): Longer receivables due from customer days hurt cash flow, expect a better performance in 2H19. Downgrade to HOLD.
MALAYSIA
Results
Carlsberg Brewery Malaysia (CAB MK/HOLD/RM24.24/Target: RM23.70): 1Q19: Within expectations. Malaysia sees robust seasonal sales as Singapore and Sri Lanka sustain its turnaround.
Sunway Construction (SCGB MK/HOLD/RM1.94/Target: RM1.79): 1Q19: Results in line, expect stronger earnings ahead from billings recognition from outstanding orderbook backlog as well as gradual improvement in precast business.
SINGAPORE
Sector
Plantation: UOBKH palm oil seminar: CPO prices to recover and trade at US$530-550/tonne; volatility to come from changes in government policies.
THAILAND
Results
CH Karnchang (CK TB/BUY/Bt26.50/Target: Bt31.00): 1Q19: Good earnings growth expected to continue on high-margin project works and contribution from associates.
VGI Global Media (VGI TB/SELL/Bt9.00/Target: Bt7.60): 4QFY19: Downgrade to SELL on the recent hike in share price.
Update
CP ALL (CPALL TB/HOLD/Bt77.25/Target: Bt80.00): Earnings growth underpinned by store and margin expansion.
True Corporation (TRUE TB/BUY/Bt4.94/Target: Bt6.70): A laggard among peers.