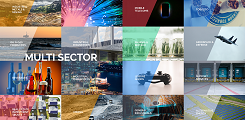 Banking - Large banks displayed resilience in earnings and asset quality; upgrade to MARKET WEIGHT
Larger banks (SOEs and JSBs) outperformed smaller ones (city banks and rural
commercial banks) in asset quality and profit growth in 1Q20. Amid the current
economic downturn, larger banks showed better NPL management ability while
higher provisions offered protection from asset deterioration. Besides, larger banks
showed a better ability to moderate NIM compression in the low interest
environment. Upgrade the sector to MARKET WEIGHT; top pick is CCB (939 HK).