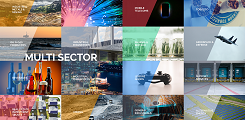 Regional Morning Notes - Monday, April 20, 2020
GREATER CHINA
Economics
Economic Activity: Slight miss in GDP growth; underwhelming recovery in retail sales.
Sector
Consumer: Consumer Bi-weekly Updates (2-17 April).
Update
China Gas (384 HK/BUY/HK$23.25/Target: HK$37.11): FY20 results preview: Majority of COVID-19 impact already factored in.
Stella International Holdings (1836 HK/BUY/HK$8.46/Target: HK$11.20): 1Q20: Revenue decline not a surprise amid COVID-19 outbreak.

INDONESIA
Sector
Construction: Altman-Z score reveals ADHI as the strongest construction player in turbulent times; maintain MARKET WEIGHT.

MALAYSIA
Update
Bursa Malaysia (BURSA MK/BUY/RM5.88/Target: RM6.60): We upgrade our call to BUY as we believe its ADV is set to surge from a low 2019 base effect. Dividends could also surprise on the upside.
Velesto Energy (VEB MK/HOLD/RM0.16/Target: RM0.15): As Petronas strives to retain local capex, we assume low termination risk, but assume high risk of standby modes and lower rates. Nevertheless, risk reward has been priced in.

SINGAPORE
Sector
REITs: S-REITs Weekly.

THAILAND
Results
Krungthai Card (KTC TB/HOLD/Bt32.75/Target: Bt34.00): 1Q20: Earnings grew on the back of TFRS9. Downgrade to HOLD.
Update
The Erawan Group (ERW TB/SELL/Bt2.98/Target: Bt2.30): 1Q20 Results Preview: To report a loss, with further losses for the rest of the year.