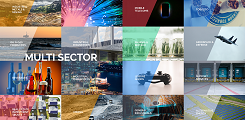 Grupe SAB de CV - Strategy, SWOT and Corporate Finance Report
Grupe SAB de CV - Strategy, SWOT and Corporate Finance Report

Summary

Grupe SAB de CV - Strategy, SWOT and Corporate Finance Report, is a source of comprehensive company data and information. The report covers the company's structure, operation, SWOT analysis, product and service offerings and corporate actions, providing a 360˚ view of the company.

Key Highlights

Grupe SAB de CV (SAB) owns and operates beach resorts, hotels, golf courses and country clubs. The company also focuses on real estate business, where it offers properties which include duplex, land, commercial lot, and condominiums for sale. It operates its properties under the brand name 'El Cid Resorts'. Key facilities offered by the resorts include accommodation, dining, bars, fitness centers, meeting rooms, business center and wedding venues. The company also offers special deals and holiday packages which include scuba diving, golf packages, honey moon packages, island tours, biking, horseback riding, bicycle rentals, cruises, fishing, and other aqua sports. The room inventory of SAB includes double rooms, junior and executive suites. It also provides tennis and racquetball courts, a lap pool, steam, sauna, and spa facilities. The company is head quartered in Mazatlan, Mexico.

Scope

- Detailed information on Grupe SAB de CV required for business and competitor intelligence needs
- A study of the major internal and external factors affecting Grupe SAB de CV in the form of a SWOT analysis
- An in-depth view of the business model of Grupe SAB de CV including a breakdown and examination of key business segments
- Intelligence on Grupe SAB de CV's mergers and acquisitions (MandA), strategic partnerships and alliances, capital raising, private equity transactions, and financial and legal advisors
- News about Grupe SAB de CV, such as business expansion, restructuring, and contract wins
- Large number of easy-to-grasp charts and graphs that present important data and key trends

Reasons to buy

- Gain understanding of Grupe SAB de CV and the factors that influence its strategies.
- Track strategic initiatives of the company and latest corporate news and actions.
- Assess Grupe SAB de CV as a prospective partner, vendor or supplier.
- Support sales activities by understanding your customers' businesses better.
- Stay up to date on Grupe SAB de CV's business structure, strategy and prospects.