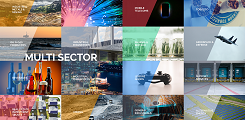 IBERIAN DAILY 21 MAY (ANÁLISIS BANCO SABADELL)
NEWS SUMMARY: ACS, AEDAS, EUSKALTEL, IAG, MAPFRE, OHL.

MARKETS YESTERDAY AND TODAY

Slight optimism fuelled by the reconstruction fund
Stock markets rallied after the sharp falls from the previous session in view of the expectation of an agreement on the reconstruction fund announced by France and Germany. In the Euro STOXX, most sectors saw gains, where Technology and Banks were the best performers vs. Real Estate and Financial Services that registered the biggest drops. On the macro side, in the euro zone, May's consumer confidence recovered more than expected and April's final inflation was lowered slightly to 0.3% YoY. In Spain, the EC recommended Spain to adopt the necessary measures to support the economy and the recovery after the Covid-19 pandemic. Simultaneously, P. Sánchez extended the state of emergency for 15 additional days with the support of the PNV and Cs parties. In the UK, April's inflation fell to 0.8% YoY from 1.5% previously. In the US, the Fed minutes showed the members' concern on the recovery after Covid-19, ruling out negative interest rates, with tools focusing on the forward guidance and the control of long-term interest rates. Additionally, another pharmaceutical group (Inovio) announced significant progress in the vaccine against Covid-19. In Japan, exports slid almost in line with expectations to -22% YoY, whereas May's manufacturing PMI contracted to 38.4 from 41.9 previously.
What we expect for today
The main European indices will open with gains of around -0.5%. Currently, S&P futures are down -0.72% (the S&P 500 ended practically unchanged vs. its price at the closing bell in Europe). Volatility in the US fell (VIX 27.99%). Asian markets are rising (Japan +0.16% and Hong Kong +0.11%).
Today in the UK and the Euro zone we will learn the manufacturing and services PMIs, in the US May's Philadelphia Fed index, weekly jobless claims and April's existing home sales. Debt auctions: Spain (€ 7 Bn in bonds due 2023, 2025, 2030 and 2066), Ireland (€ 750 M 6M t-bills) and a new 5Y syndicated issuance in Italy linked to inflation.

COMPANY NEWS

OHL. 1Q'20 results relatively unaffected by Covid-19 for the time being, but with high working capital consumption. SELL.
The 1Q'20 results were in line on the operating level (€ 13.6 M of EBITDA BS(e) vs. € 9 M BS(e)), but showed greater cash burn (€ 190 M vs. € 120 M BS(e)) due to working capital consumption, which might not be well received by the market. We expect a severe impact from Covid-19 on its business in 2Q'20, and thus, we will cut our estimates by -48% in EBITDA'20 in a scenario of V-shaped recovery (-35%, bringing our T.P. to levels of € 0.60/sh. (+9% upside)). In a negative scenario of U-shaped recovery (-60% in EBITDA'20e and -40% on average over the 2020-21 period), our T.P. would stand at €~0.45/sh. (-18% potential), meaning that we reiterate our SELL recommendation. Since February'20 highs, the share price has slid -49% (-15% vs. Ibex).

Separately, the company announced yesterday that it has agreed with Caabsa to finalise the period of exclusivity established by the two companies to study the possible merger between OHL and Caabsa's construction business. The company confirmed, however, that Grupo Villar Mir (30.6% stake in OHL) is in talks with the Amodio famliy (100% stake in Caabsa) to sell to the latter of part of its share package in OHL.
We recall that the deal planned included the integration of Caabsa's construction business in OHL via a merger through absorption, which would have given the Mexican company a stake of between 31% and 35% in OHL. Moreover, Caabsa would make a contribution of € 50 M (~31% of OHL's market cap) in cash. This news confirms the rumours echoed by the press in the past few days and should not be a surprise considering the exceptional situation caused by Covid-19. We understand that OHL's priority is to optimise its liquidity position (€ 55 M of net cash and €~850 M of cash BS(e)) and to minimise the impact from Covid-19 on its business. In any case, we would welcome the sale of Villar Mir's share package, as this would generate cash (€~50 M at the current price) that would allow Grupo Villar Mir to honour its debts, of which €~120 M would correspond to OHL (Pacadar's debt).



IAG, BUY
Yesterday S&P announced it has downgraded IAG's rating from BBB- to BB (non-Investment Grade), keeping the outlook negative. Negative news, although expected, given the situation in the sector. S&P has also downgraded another 7 European airlines.