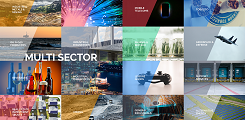 IBERIAN DAILY 21 AUGUST (ANÁLISIS BANCO SABADELL)
NEWS SUMMARY: MÁSMÓVIL, MEDIASET ESPAÑA.

MARKETS YESTERDAY AND TODAY

Profit-taking in stock markets
The main European indices ended in the red due to the lack of positive drivers and ahead of J. Powell's speech. Within the Euro STOXX, all sectors saw losses, with Personal household goods and Pharma being the best performers, whereas Basic Resources and Real Estate were the worst-performing sectors. On the macro side, there were no relevant references. In Italy, Prime Minister M. Conte resigned and President Mattarella will initiate a round of talks to appoint a new PM (the PD offered to support the 5-Star Movement if the latter recognizes that mistakes were made and amends some of the reforms implemented in the last year, such as the reduction in the retirement age). Alternatively, a snap election would have to be called (where the Northern League might obtain an absolute majority). As regards the United Kingdom, European Council president D. Tusk dismissed B. Johnson's demand that the backstop should be scrapped from the Brexit agreement, considering that no realistic alternatives would have been offered. In the US, D. Trump would be weighing the possibility of implementing new fiscal stimuli to prevent an economic slowdown, with a reduction to the tax on capital earnings and taxes from labour, although their approval would be difficult due to the opposition of Congress, now controlled by the Democrats. In US business results, Home Depot and Medtronic released better results than expected.
What we expect for today
Stock markets would see a slightly bearish opening.
Currently, S&P futures are up +0.3% (the S&P 500 closed -0.2% vs. its price at the closing bell in Europe). Volatility in the US rose (VIX 15.8%). Asian markets are performing with mixed results (Japan -0.3% and Hong Kong +0.1%).
Today we will learn: in the US, the Fed's minutes and Second-Hand Home Sales. In US business results, Lowe and Target Corp will release their earnings.