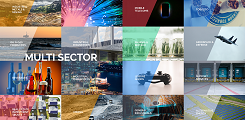 Vermilion Compass: Weekly Equity Strategy
Upgrading Discretionary, Downgrading Staples

New developments outlined in today's report are of the bullish variety. The way we see it, the positives continue to heavily outweigh the negatives. With positive new developments and essentially nothing new to be worried about, our view remains bullish. Buy the dips.

· Sector Relative Strength Rankings & Weighting Recommendations. We are upgrading Discretionary to overweight; RS on the cap-weighted Sector (XLY) is breaking out to all-time highs. Additionally, we are downgrading Consumer Staples to underweight; RS is breaking below major support for both the cap- and equal-weighted Sectors (XLP and RHS, respectively). Reduce exposure to Staples and add to Discretionary. One actionable idea is Chipotle (CMG)... see charts below and pages 2-3.

· Emerging Market Equities With Major Bullish Price & RS Inflections. Helped by a weaker dollar and a recent surge from Chinese equities (ASHR, FXI), the MSCI EM index (EEM) shows major bullish price and RS inflections. RS on the EEM (vs. the S&P 500) is breaking above a multi-year downtrend, a welcomed sight considering foreign equities have lagged for years, and EM is about as risky as it gets (i.e., this is a positive for risk sentiment)... see page 4.

· Commodities, Baltic Dry Index At Multi-Month Highs. The Baltic Dry index and commodities (Bloomberg Commodity Index, Copper) are hitting multi-month highs, classic signs of an improving economy... see page 5.

· Key Levels. The S&P 500 is breaking above 3155 short-term resistance and has officially "filled the gap" from 6/11/20. The path of least resistance remains higher, however the highs from June in the 3181-3233 zone is near-term resistance to watch. Support levels to watch include 3155, 3085, and 3000. The growth-oriented Nasdaq 100 remains leadership; key support levels to watch include 10,300 and the 20-day MA..