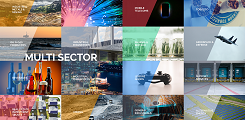 Int'l Insights: Developed Markets Leadership Chart Book
Europe in focus

The U.S. dollar continues to grind marginally higher, and EM equities have suffered as a result. Meanwhile, RS for the MSCI EAFE index is bottoming when compared to the MSCI EM index, largely due to outperformance in Europe. With developed int'l markets beginning to outperform emerging markets, we recommend adding exposure to the developed int'l space. Below we highlight attractive and actionable themes within developed int'l:

• Europe & Japan: Though this is an all-encompassing bottoms-up chart book for developed ex-U.S., make no mistake, the vast majority of today's buy recommendations hail from Europe. We view this as reinforcing our belief that Europe is bottoming, a viewpoint that remains far from consensus. Within Europe, we put a spotlight on Germany's DAX and France's CAC 40. On the other hand, Japan's TOPIX remains a global laggard. Unsurprisingly, attractive setups are harder to come by within Japan (just two Japanese stocks highlighted in this report)... see chart below and page 2.

• European Sectors: Today's recommendations are primarily from cyclical Sectors, however European Consumer Staples also exhibits bottoming RS. On page 3 we provide a RS analysis of the Sectors that present our favorite opportunities: Technology, Discretionary, Industrials, Transportation, Financials, and Staples.

Outside of the above themes, a bottoms-up approach is required to uncover attractive and actionable stocks. On page 4 we include a table of all stocks highlighted in this report, sorted first by sector and then by country... see page 4.