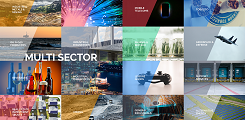 Vermilion Compass: Weekly Equity Strategy
Market rangebound; Upgrading Services

In last week's Compass we made several observations which led us to be cautious. All of the concerning observations have since reversed as the market found support: the U.S. dollar weakened, defensive areas underperformed, cyclical areas held at logical support, high yield spreads narrowed, and the 10-year Treasury yield found support. These positive developments are encouraging, however we believe the market remains rangebound.

• S&P 500 levels. We believe the market remains in purgatory as technical indicators remain mixed. We see the S&P 500 remaining rangebound between support at 2,720-2,730 and resistance at the all-time highs of 2,954.

• 10-year Treasury, high yield spreads reversing course. Last week we highlighted 2.04% as a level where the plunging 10-year Treasury yield had the potential to stabilize, noting it would be consistent with a bounce in the equity market. So far this has played out nicely. Additionally, high yield spreads have narrowed substantially and appear to be reversing course - akin to what happened in late Dec./early Jan. as equities bottomed... see charts below.

• Upgrading Services. RS for our equal-weighted Services Sector is breaking out topside 3.5-year resistance -- overweight/add selective exposure. Actionable stocks highlighted include CLGX, ACM, ARMK, MAN, NCR, and KBR... see pages 2-4. We also highlight attractive Groups and stocks within Services on pages 12-32.

• U.S. dollar (USD) testing major support. The USD has weakened to a critical support level. We continue to believe further weakening may rescue global risk assets by providing a tailwind for EM/foreign equities and the commodity structure... see page 5.

• Foreign markets finding support. Speaking of EM/foreign equities, both developed (EFA) and EM (EEM) are holding at important support levels... see page 5.

• Dr. Copper, Crude oil prices stabilizing. Copper prices remain above key 10-month support in the $2.55-2.60 range and WTI crude oil has found support at $50. Breakdowns below these key levels would be problematic for global equities as it would likely usher in another wave of selling pressure.