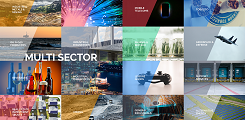 Vermilion Compass: Weekly Equity Strategy
Market Sending Mixed Signals

Yesterday's break below 3425 short-term support in the S&P 500 opens the door for potential visits to 3325 and 3200, two important support levels we are watching moving forward. With that said, as long as 3200 holds (the September lows) we are constructive and would be buyers on a pullback. At the same time, small-caps are providing a risk-on signal with the Russell 2000 (IWM) still holding above $159 short-term support. Leadership from small-caps is something we would expect to see in a broad-based bull market, and if IWM is above $159 it is hard to get too bearish overall.

· Key Levels. In addition to the S&P 500, the Nasdaq 100 is also breaking below short-term support at 11,606. As a result we believe additional backing-and-filling is likely for these large-cap indexes -- that is, unless the S&P 500 and Nasdaq 100 can reclaim 3425 and 11,606 short-term resistance levels (respectively). For the Nasdaq 100, current support levels we are watching include 11,225 followed by 10,700.

· Sector Relative Strength Rankings & Weighting Recommendations. We are getting some mixed signals when it comes to Sector leadership, as traditionally defensive Utilities are hitting multi-month RS highs alongside sustained leadership from Consumer Discretionary, Technology, and Materials.

· Value vs. Growth, 10-Year Treasury Yield. The Russell 1000 Value index is on the cusp of a bullish reversal relative to the Russell 1000 Growth index, something that would have a meaningful impact on Sector leadership. The same can be said for mid-cap and small-cap value vs. growth ratios. Improvement for value Sectors has come as the 10-year Treasury yield recently hit 4.5-month highs.