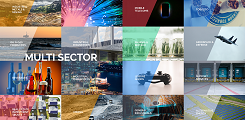 Vermilion Compass: Weekly Equity Strategy
Taking A Breather

As the broad market takes a breather, the weight of the evidence continues to support our belief that we are in the early stages of a broad-based advance. As long as there are no significant negative market developments, a buy-the-dip mentality is warranted. Of course, the potential for a US-China tariff escalation remains a risk for the market, though that is likely to be the case for the foreseeable future.

• Sector Relative Strength Rankings (RSR) & Weighting Recommendations. Health Care, Technology, and Manufacturing round out our top three cap-weighted Sectors in terms of RSRs -- remain overweight... see page 2.

• Semiconductors and Small-Caps. Semiconductors have led the market to both the upside and downside all year, and while the SOX index is taking a breather, it is by no means breaking down. Price and RS breakdowns for the SOX index would give us reason for pause, but that is not what we are seeing at this point in time. The Russell 2000 index has broken topside 1,600-1,605 resistance, a positive development in favor of the bull camp. 1,600-1,605 is a logical support area moving forward. Additionally, the Russell 2000 A/D Line recently hit YTD highs, a sign of healthy breadth which is confirming the advance in small-caps... see charts below.

• High Yield Spreads; Interest Rates; US Dollar (DXY). High yield spreads continue to move sideways to slightly lower, a signal that a recession is becoming less and less likely. The same can be gleaned from interest rates which continue to show signs of bottoming. $98.50 is resistance to watch on the DXY... see page 3.

• More Key Levels To Monitor. Emerging market equities (EEM) and Industrials (XLI) are both testing logical support. Equal-weighted Consumer Discretionary (RCD) and global equities (ACWI) are testing logical resistance... see pages 4-5.

In today's report we highlight attractive Groups and stocks within Consumer Discretionary, Health Care, and Transportation: CD-20 Hotels & Resorts, Large/Mid-Cap, HC-29 Hospitals, and TR-14 Vehicle Rentals/Leasing... see pages 13-22.