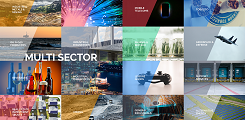 Vermilion Compass: Weekly Equity Strategy
Outlook deteriorating; Upgrading Staples

Throughout last week the U.S.-China tariff escalation and market action did not result in material changes to our outlook. That is, until yesterday (Monday), when the market opened down and moved lower throughout the day, and several key developments that were instrumental in our positive outlook made a turn for the worse. Below we highlight several negative developments which lead us to a more cautious outlook.

• Consumer Staples upgrade; RS improving for defensive areas. We are upgrading Consumer Staples to market weight due to RS bullishly inflecting topside resistance -- add selective exposure. Actionable Staples stocks highlighted: GIS, CPB, EL, and THS. As far as defensive areas go, RS has also improved for Utilities (XLU), Real Estate (XLRE, VNQ), and precious metals (GLD, GDX, GDXJ), something we view as negative for the broad market because it shows investors are becoming increasingly risk averse... see pages 2-5 for additional comments and charts.

• MSCI EM, MSCI China indexes breaking down. Bottoming price action for EM & China has been a focal point in leading to our previously positive outlook. With both indexes breaking down we have become more cautious as we believe they may bring U.S. markets down as well... see page 6.

• Additional negative developments: Steep price and RS uptrends are breaking down for Technology (XLK, RYT). Copper and the copper to gold ratio are showing signs of breaking down, a negative for the global growth outlook.

• It is not all bad. We certainly are not running for the hills, because there is a lot that is still going "right" for the market. The 10 to 2's Treasury yield spread still shows signs of breaking above a ~2.5-year downtrend. High yield spreads are not raising major red flags. Homebuilders (ITB) and semiconductors (SOXX, XSD) remain leadership and are above key support. Financials (XLF, RYF) still exhibit signs of bottoming. Industrials (XLI) are not breaking down. Neither are crude oil prices... see page 7.

In today's report we highlight attractive Groups and stocks within Consumer Staples and Materials: CS-10 Meat & Poultry, MA-26 Gold, Western Hemisphere, Large-Cap, and MA-29 Gold, South Africa... see pages 14-23.