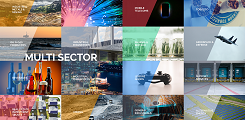 Vermilion Compass: Weekly Equity Strategy
Caution remains warranted

We have noted several times throughout the month of August that key support levels were being tested for global equities (8/6 Compass and 8/8, 8/15, & 8/22 Int'l Compass), and while there has yet to be a decisive breakdown, as time has passed there has been new negative developments which lead us to be even more cautious. This past Friday's test of support is no different, and we believe the market is more vulnerable to a breakdown than it has been at any other point this year. Below we highlight the new concerning developments which lead us to believe the market remains vulnerable to a breakdown.

• Sector Relative Strength Rankings & Weighting Recommendations. Relative strength for both cap- and equal-weighted Utilities notched a new YTD high (barely) amid Friday's precipitous market drop, leading us to contemplate an upgrade to overweight. New RS highs for defensives is often a characteristic of bear markets, leading us to believe the market is vulnerable to further weakness... see pages 2-3.

• Copper hits multi-year lows, copper vs. gold ratio downtrend intact. We often look at copper prices to get a gauge on where global growth is headed. New lows in copper would suggest that global growth is poised to weaken, leading us to believe the market may be vulnerable to further downside. Additionally, the copper vs. gold ratio is yet another measure of risk appetites giving a risk-off signal... see page 4.

• Growth vs. value; small- vs. large-caps. Growth continues to outperform value -- remain overweight growth. Additionally, large-caps remain leadership, however we get a slightly different picture when comparing the Russell 2000 vs. 1000 and S&P 600 vs. 500... see page 5.

In today's report we highlight attractive Groups and stocks within Consumer Discretionary, Financials, and Materials: CD-07 Homebuilding, Small-Cap, FN-53 REITs, Storage, and MA-26 & -27 Gold, Western Hemisphere, Large- and Small-Cap (respectively)... see pages 12-29.