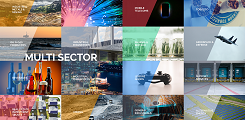 Vermilion Compass: Weekly Equity Strategy
S&P 500 consolidating despite negative signals

We remain cautious as there continues to be several new or persisting negative signals which tell us that upside is likely to be muted from here -- barring improvements. At the same time we are not seeing widespread breakdowns and the major averages are still consolidating within a 1-month horizontal range. As long as this consolidation continues, a neutral outlook is appropriate.

• Sector Relative Strength Rankings & Weighting Recommendations. Defensives (Staples, Utilities, Real Estate) notched new YTD RS highs yet again over the past week. The longer this continues, the more concerning it becomes for the broad market as it increases the likelihood of a deeper pullback... see page 2.

• New negative signals. Banks (KBE, KRE) are hitting new 26+ week price lows and the S&P 600 vs. S&P 500 (small- vs. large-caps) ratio is breaking to multi-year lows after a brief attempt at bottoming. Much like the above bullet point, the longer this persists in these key cyclical areas of the market, the greater the concern that the broad market may suffer a similar fate and succumb to weakness... see page 3.

• The S&P 500 and the 10-year Treasury yield. There continues to be no signs of interest rate stability, a persistent concern for the equity market. With the major decline in yields that began in November 2018, we take a look at the relationship between the S&P 500 and the 10-year Treasury yield in prior instances where yields dropped substantially (2011-2012 and 2016) to examine what we might expect this time around... see page 4.

In today's report we highlight attractive Groups and stocks within Health Care, Materials, and Utilities: HC-25 Health Care Staffing, MA-30 Silver, Platinum, UT-06 Electric, Midwest, and UT-09 Gas, Southeast... see pages 11-29.