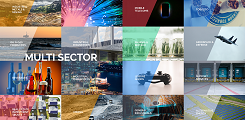 Vermilion Compass: Weekly Equity Strategy
Still Bullish, But With Reservations

And just like that, the S&P 500, Nasdaq, and the Dow have reclaimed new highs despite ongoing coronavirus concerns, as a buy the dip strategy has paid off. Primarily responsible for new highs in these indexes is Technology (esp. software and semis/semi suppliers) and FAANG stocks. While these areas all remain bullish, we still have some reservations due to the massive disparity in performance between them and the Materials (XLB, XME) and Energy (RYE) Sectors, and also small-caps (IWM) which continue to hit new RS lows. Still, the Materials and Energy Sectors make up just over 6% the S&P 500, so the market does not need them in order to move higher. We are on watch for these laggards to play catch up with the rest of the market, which would help create a more perfect bullish scenario.

• Sector Relative Strength Rankings & Weighting Recommendations. Cap-weighted Technology continues to lead the way as Energy and Materials cluster at the bottom of our rankings. Stocks highlighted include: MDB, OKTA, PLAN, SMAR, TWLO, WDAY, ZEN, SPNS, AMT, SBAC, and CCI... see pages 2-5.

• Support Levels Holding. Support levels are holding for key areas such as Financials/banks (XLF, KBE, EUFN), small caps (IWM), Materials (XLB), Energy (RYE), Industrials (XLI), copper, retail (XRT), transports (IYT, XTN), and high yield bonds (HYG, JNK). None of these areas are leadership, however as long as they do not break down in terms of price there is reason to believe this bull market remains viable... see pages 6-7.

• US Dollar, Emerging Markets. A strengthening US dollar along with coronavirus concerns has been problematic for the MSCI EM index. Still, MSCI China - the largest and therefore most important area within EM (34% of MSCI EM) - is not breaking to new lows in price or RS, giving broad EM a fighting chance... see page 8.

In today's report we highlight attractive Groups and stocks within Consumer Discretionary and Financials: CD-06 Homebuilding, Large-Cap, CD-24 Casinos & Gaming, Small-Cap, FN-24 Asset Management & Custody Banks, Large-Cap, and FN-32 Investment Banking & Brokerage, Small-Cap... see pages 15-27.