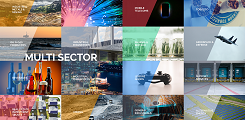 Vermilion Compass: Weekly Equity Strategy
Yield surge tests equities; Downgrading Discretionary

Bent, but not broken. That is how we would classify the state of the S&P 500. Recent market weakness has been chalked-up to the 10- and 30-year Treasury yields surging above critical resistance areas - 3.1% and 3.25%, respectively. We have highlighted rising rates numerous times in recent months as having the potential to derail the market's advance, and so far the market has done nothing but go down. However, we must keep in mind that the weakness has come on the heels of all-time highs and the S&P's multi-month uptrend remains intact. We maintain our overall constructive outlook and will monitor for signs of further deterioration.

• Sector Relative Strength Rankings (RSRs) & Weighting Recommendations. We are downgrading Discretionary to market weight as retail (XRT, RTH) breakdowns and continued weakness in homebuilders (XHB, ITB) and major autos (CARZ) - big ticket items associated with long-term financing - has led to price and RS uptrend violations for the Sector. Reduce exposure... see pages 2-3.

• Many major indexes testing support. We cover the S&P 500, Dow Jones Industrials, small-caps (IJR), PHLX Semiconductor, developed (VEA) and emerging (EEM) markets, which are all at logical support areas. In other words, while we expect to see these indexes firm up at current levels based on YTD trends, the potential for breakdowns is not far off... see page 4.

• Big picture trends. Despite the assault on the Discretionary Sector, the cyclicals (XLY) vs. staples (XLP) ratio remains elevated and has not broken down. Something similar can be said of the growth vs. value ratio, where the uptrend remains intact... see page 5.

• In today's report we highlight attractive Groups within Energy, Consumer Staples, Materials, and Utilities... see pages 10-20.