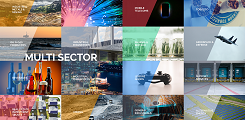 Vermilion Int'l Compass: Global Equity Strategy
US Dollar Breakdown Bullish For Risk Sentiment

Global indexes including the MSCI ACWI and ACWI ex-US are following in the MSCI EM index's footsteps by breaking to new highs. This is bullish and signals a new leg higher is underway. Additionally, the US dollar is showing signs of a breakdown, something we view as a positive for global risk sentiment as long as the decline continues to be orderly. Overall our outlook remains bullish and we suggest buying any dips.

· US Dollar (DXY) Breaking Below 96. As we stated after the DXY broke below 98.50, the door remains open for non-US equities (especially EM equities) to outperform relative to the US. Shorter-term resistance to watch on the DXY is at 96 followed by 97.80. Assuming the DXY is below 96 at the end of this week, it will be bullish for global risk sentiment and we believe EM/non-US outperformance is likely to continue. Overall, a weaker dollar should not raise concerns as long as declines in the DXY are orderly (i.e., not violent)... see chart below.

· Index Overviews. As expected, broad global indexes including MSCI ACWI and ACWI ex-US are following MSCI EM to new highs. That leaves the laggard, MSCI EAFE, as the last index to break out... see page 2.

· Actionable Theme: Cyclical Value/"Reopening" Sectors. Cyclical value and "reopening" themes continue to have some bright spots where we want to be invested, especially in the following Sectors: Transportation, Manufacturing, Materials, and Consumer Discretionary. We also specifically want to draw your attention to two Canadian railroad stocks (Group TR-16) that are each breaking out and should be bought at current levels: Canadian National Railway (CNR-CA) and Canadian Pacific Railway (CP-CA)... see page 3 and pages 5-12.

· Actionable Theme: Growth Sectors. Growth remains long-term leadership -- remain overweight. Attractive growth Sectors highlighted in today's report include: Health Care, Services, Technology, and Communications..