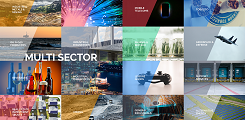 Vermilion ETF Pathfinder: Actionable ETF research & Ideas
Testing 1-month resistance

All of the major averages (S&P 500, Nasdaq, and Dow) are testing key 1-month resistance levels. This test of short-term resistance comes despite new developments which continue to be of the negative variety, making it a logical area for the market to retreat. As a result, we remain cautious with an overall neutral outlook.

• Negative developments continue. Copper exhibits signs of breaking down below the key $2.54-2.55 level, the small- vs. large-cap ratio (IJR/SPY) is hitting fresh lows after an attempted bottom, and Utilities (XLU) notched a new YTD RS high last week. All of this is consistent with an unhealthy equity market landscape, and is consistent with a market that is likely to struggle for gains moving forward... see page 2.

• Commodities. Continue to favor precious metals (GLD, SLV, PPLT) within the commodity structure. WTI crude oil (DBO) remains a laggard and we are concerned that there may be a breakdown in light of its descending triangle pattern... see page 3.

• Actionable Industry ETFs: SIL, IHI, ITA, and ITB... see page 10.

• EM and Int'l: Developed (EFA) and EM (EEM, VWO) ETFs are making lower highs and lower lows, something we continue to see as concerning for foreign and U.S. equity markets alike. Remain underweight... see page 11.

• Actionable Int'l ETFs: EWN, EWC, ERUS, RSXJ, EWT, and EWZS... see pages 12-13.