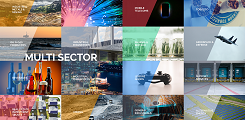 Vermilion Compass: Weekly Equity Strategy
Here we go again

In last week's Compass we laid the case that markets were at a key inflection point heading into the first Fed rate cut in over a decade. Despite hawkish Fed takeaways, it was the escalation in the U.S.-China trade war that was the bigger story, however both weighed on global equities. Needless to say, everything we highlighted last week as being at a key inflection point failed to resolve in a manner that was bullish for equities. Below we highlight several developments we are watching which will help determine if the current pullback will be similar to what happened in May, or if we should expect a deeper correction.

• RS for defensives. Horizontal RS support held strong for Utilities (XLU) and Real Estate (VNQ), a sign of risk aversion as investors ran for the hills. RS has quickly spiked and is already approaching YTD highs for Utilities, Real Estate, and Staples (XLP). If RS breaks out to new highs, we may be in for a deeper correction... see pages 2-3.

• Risk-on areas testing support. Several important areas of the market are either at or near support. Many of these areas helped us sniff out potential support at the June lows, and they may help us out this time around as well. Of course, if current support levels fail to hold - similar to what happened in October 2018 - the market may be in for a deeper correction... see pages 4-5.

• US dollar (DXY), euro (EURUSD), foreign equities. As expected, the breakout to new highs in the DXY and new lows in the euro created problems for foreign equities (EM and EAFE). We assess the damage... see page 6.

• Additional big picture trends. We take a look at spiking high yield spreads along with current oversold conditions for the S&P 500... see chart below and page 7.
In today's report we highlight attractive Groups and stocks within Materials: MA-26 Gold, Western Hemisphere, Large-Cap, MA-27 Gold, Western Hemisphere, Small-Cap, MA-29 Gold, South Africa, and MA-30 Silver, Platinum... see pages 14-28.