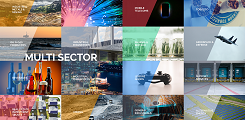 Vermilion Int'l Compass: Global Equity Strategy
Buoyed by outperformance in the US, the MSCI ACWI is the only broad global index that has yet to make a lower low relative to the lows set in June. This deterioration for ACWI ex-US, EAFE, and EM, continued bearish-leaning indicators, and continued downside volatility in bond yields leads us to remain cautious and concerned that global equities remain vulnerable and could be poised for additional weakness moving forward.

• Additional bearish-leaning developments. In addition to the concerns we have highlighted over the past several weeks, new negative developments continue to plague the global equity landscape. Such new developments include YTD RS highs for global Utilities and Dr. Copper hitting new lows -- both of which are characteristics that would often indicate deteriorating global growth and an equity market that is likely to struggle for gains... see page 2.

• Copper/gold ratio; Global bond yields. The copper/gold ratio often moves in concert with global Treasury yields, and divergences can also indicate a potential turning point in yields. The copper/gold ratio suggests the downtrend in US and Euro yields is showing no signs of letting up. Until we see some stabilization in global yields, equity markets are likely to struggle for gains... see page 3.

• Europe/UK holding above support. Despite weakening internals, Europe and the UK continue to cling to support and are not yet breaking down. Key support levels to watch continue to be 364-365 on the STOXX 600 and 7,080-7,100 on the FTSE 100.

• Actionable Theme: Continue to play defense. Major indexes around the world continue to do next to nothing, making Sector, Group, and stock selection all the more important. We prefer to use a barbell strategy of growth and safety. Attractive and actionable themes highlighted in today's report include IT Services/Tech Software, Communications, Precious Metals, and Utilities... see pages 5-6.