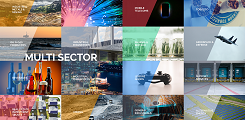 Int'l Macro Vision: Sector Synopsis
Int'l Equity Strategy

Global equities were on a tear in early January, continuing the trend that began in 4Q2019. As global equities started to get extended, the coronavirus outbreak hit in mid-January, leading to some market setbacks and deterioration in market indicators as global growth expectations were dialed-in. Despite this deterioration, what was important to us was that there were not any breakdowns. Even the areas of the market most-directly affected by the outbreak -- China (MSCI China) and EM (MSCI EM) -- were not breaking down. To us, this was a reassuring sign of underlying strength, leading us to believe this equity bull market remains alive and well. As we detail below, our weight of the evidence approach continues to lead us to the same conclusions as we posited in our 1/24/20 and 1/30/20 Int'l Compass reports: we continue to believe this is a bull market until proven otherwise, and a "buy the dip" strategy remains warranted.

In our February International Strategy, we highlight various themes which lead to our bullish outlook:

• All of the major global indexes (MSCI ACWI, ACWI ex-US, EM, and EAFE) remain on bullish trajectories as coronavirus concerns effectively helped to correct the excess bullish sentiment in the short-term. Global indexes in uptrends and/or hitting new highs is arguably the most important leading economic indicator of all which helps lead us to our bullish outlook.

• Several indicators we watch in order to get a gauge on the health of the global economy and equity markets are holding up well and are supportive of our positive outlook, including (1) global cyclicals vs. staples ratios, (2) high yield spreads, (3) lumber prices, (4) copper prices, (5) WTI crude oil prices, (6) interest rates, and (7) Macau casino stocks.

• While these areas do not represent leadership, absolute patterns continue to show signs of bottoming for cyclical value areas of the market (e.g., Financials/Banks, Industrials, Major Auto Manufacturers, and Materials). Even the Energy Sector is holding above key support. As long as these areas are not breaking down in terms of price, we believe the global equity bull market remains viable.

• The US dollar (DXY) continues to move higher following the bullish inflection in January, and it is now testing 2019 highs near $99.70. At the same time, MACD continues to signal bearish divergence leading us to believe there is a low probability on the DXY hitting appreciably new highs. The recent move higher amid coronavirus concerns has led to some RS deterioration for MSCI EM, however if the DXY can stay below $100, EM has the potential to reassert itself as leadership.

In the remainder of our February International Strategy, we highlight areas of the market where we see actionable opportunities:

• Actionable Theme: Technology. The Vermilion equal-weighted international Technology Sector remains global leadership -- remain overweight/add exposure.

• Actionable Theme: Health Care. Global Health Care stocks (ex-US) have continued to outperform, to the point where the Vermilion equal-weighted international Health Care Relative Strength Ranking has closed the gap on Technology. Remain overweight/add exposure.