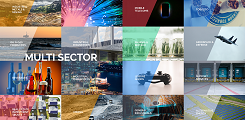 Vermilion ETF Pathfinder: Actionable ETF research & Ideas
Add Exposure to Small-Caps; Upgrading Health Care

Bullish price and RS inflections for small-caps (IWM) is the latest positive development underpinning our belief that we are in the early stages of a broad-based market advance.

• Small-Caps. The Russell 2000 (IWM) is decisively breaking topside $160 resistance and is making the long-awaited bullish RS reversal -- add exposure. Bullish price and RS inflections for small-caps helped ignite the broad market rally that began in early 2016, and we believe today's market is poised for a similar outcome... see chart below.

• Health Care. We are upgrading Health Care to overweight due to price breakouts and decisive RS bottoms for cap-weighted (XLV), equal-weighted (RYH) and small-cap Health Care (PSCH). Add exposure... see page 3.

• Late-Stage Cyclicals. Late-stage cyclicals are mixed, with Materials (XLB, SLX, XME) showing signs of bottoming while Energy (RYE, IEO) lags. Energy historically is among the last of the cyclical Sectors to participate in the rally, so we want to remain patient as we expect the Sector to eventually play catch-up... see page 2.

• Actionable Industry ETFs: TAN, IPAY, IGV, and XPH... see page 9.

• EM and Int'l: EM equities (EEM) have deteriorated from a RS perspective, a concerning development that has put a damper on sentiment... see page 10.

• Actionable Int'l ETFs: EWL, EIRL, DXGE, EWUS, ERUS, and KWEB... see pages 11-12.