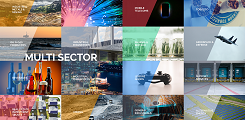 Vermilion ETF Pathfinder: Actionable ETF research & Ideas
Triple top? Or pullback opportunity?

Despite U.S.-China tariff escalation and market weakness last week, major indexes - both domestic and foreign - are not yet breaking down. Neither are several important cyclical/risk-on areas of the market. At the same time, they are testing important support levels. Below we highlight several developments we are watching which, if support levels are broken, may alter our positive outlook.

• Markets at logical support: As the S&P 500 Equal Weight index grapples with resistance and the potential for a triple top, it is not yet breaking down on a short-term basis... see charts below. Similarly, several cyclical/risk-on areas of the market have pulled back to logical support at prior breakout levels, suggesting recent weakness may be a normal pullback. On page 2 we highlight key support levels we are watching which, if broken, may result in a more cautious overall outlook.

• High yield spreads; precious metals. High yield spreads are not yet flashing major warning signals, and precious metals (GLD, SLV) are testing short-term downtrend resistance... see page 3.

• Actionable Industry ETFs: SOXX, ITB, KIE, and IAI... see page 10.

• EM and Int'l: EM (EEM, VWO) and developed int'l (EFA, VEA) ETFs are testing critical support levels. Breakdowns would be cause for concern and would put a major damper on risk sentiment... see page 11.

• Actionable int'l ETFs: GREK, HEWG, EWL, and EWS... see page 12.