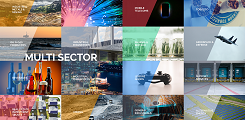 Vermilion ETF Pathfinder: Actionable ETF research & Ideas
Upgrading Industrials, Downgrading Defensives

The current market scenario is not what we would consider "perfect" for a bull market, but it certainly has most of the necessary ingredients. Therefore, we continue to believe we are in the early stages of a broad-based advance.

• Upgrading Industrials, Downgrading Defensives. Cyclical Sectors continue to show price and RS improvement while Defensive Sectors deteriorate, a favorable backdrop for a bull market. We are upgrading Industrials (XLI, RGI) to overweight due to bullish price and RS inflections, and we are downgrading Staples (XLP), Utilities (XLU), and Real Estate (XLRE) to underweight due to RS deterioration... see chart below and Sector comments on pages 4 and 8-9.

• Big Picture Trends. The 10-year Treasury yield continues to bottom. Banks (KBE, KRE) and Transports (XTN) exhibit signs of price and RS bottoms. Small-caps (IWM) are still grappling with resistance. The small- vs. large-cap ratio (IWM/SPY) has yet to bullishly inflect. The US dollar (UUP) remains in an uptrend channel. Gold (GLD) continues to back-and-fill.... see pages 2-3.

• Actionable Industry ETFs: IHI, XTN, COPX, and IGV... see page 10.

• EM and Int'l: Developed international equities (EFA) remain on a bullish trajectory, while EM equities (EEM) have recently suffered a mild setback... see page 11.

• Actionable Int'l ETFs: EUSC, EWJ, EWL, EWN, PGAL, EWC, EWY, and EWT... see pages 12-13.