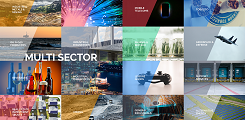 Vermilion ETF Pathfinder: Actionable ETF research & Ideas
Global indexes at major resistance

Despite the S&P 500 having crept into all-time high territory, several signals continue to give us reason for pause as they are not indicative of what we would expect to see in a typical bull market. Below we highlight some of these signals which give us reason for pause, including major global indexes (ACWI and IOO) which find themselves at critical resistance... see charts below.

• Reasons for pause: RS is neutral and consolidating for defensive bond proxy Sectors. Price trends are neutral at best for banks (KBE, KRE), transports (IYT), small-caps (IWM), WTI crude oil, and "Dr. Copper" (CPER). Cyclical vs. Staple ratios are consolidating. And small-caps continue to underperform relative to large-caps. These developments are not what we would expect to see in a typical bull market... see page 2.

• The U.S. dollar (DXY), precious metals. The potential DXY top remains in play and any whiff of DXY weakness, or a move lower in yields, has led to strength in gold (GLD, GDX, GDXJ) -- remain overweight. Silver (SLV, SIL) is also joining in on the precious metals rally -- add exposure... see page 3.

• Sector overweights. Technology (XLK): Services and Software (IGV, XSW) remain long-term leadership. Comm. Services (XLC): Several stocks within the media industry remain attractive... see page 4.

• Actionable Industry ETFs: TAN, IPAY, IHF, and SIL... see page 10.

• EM and Int'l: Price trends are consolidating for both developed (EFA) and EM (EEM) equities. Remain underweight EFA and market weight EEM... see page 11.

• Actionable Int'l ETFs: EWL, EWA, ENZL, and RSXJ... see page 12.