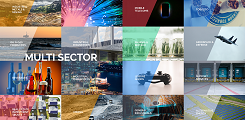 Vermilion ETF Pathfinder: Actionable ETF research & Ideas
Constructive Pullback

Coronavirus concerns are hitting stocks due to prospects of lower economic growth. A question we ask ourselves is whether the worst of the declines are behind us and that the pullback is likely to be a buying opportunity, or is this the beginning of a much larger correction? We lean towards the former, and believe this to be a healthy and constructive pullback of the 5-7% variety in the S&P 500 (peak-to-trough is currently -3.7%). We explain our thought process below.

• Bent, Not Broken. Several key areas of the market have deteriorated, however none are truly breaking down. This includes copper (CPER) and crude oil (DBO), Treasury yields, high yield bond ETFs (JNK, HYG), global equities (ACWI), small- and mid-caps (IWM, IWR), Energy (RYE), Materials (XLB, XME), Transports (IYT), and Banks (KBE, EUFN). If these areas break down, that will give us reason to believe a deeper pullback may be in the cards... see charts below and pages 2-4.

• Upgrades & Downgrades. We are upgrading Staples, Real Estate, and Utilities to market weight due to bullish RS reversals. Additionally, we are downgrading Energy and Materials to underweight due to RS breakdowns. Lastly, RS has settled-in to a horizontal range for Health Care and Industrials, both of which we are downgrading to market weight... see charts below and Sector comments on pages 5-10.

• Actionable Industry ETFs: IPAY, IGV, ITB, and IAI... see page 11.

• EM and Int'l: Foreign equities (EEM, EFA) are pulling back... see page 12.

• Actionable Int'l ETFs: EWW, RSX, RSXJ, EWZS, EUMV, EWL, EDEN, and EIRL... see pages 13-14.